New Orleans is a city that takes its food seriously. From its casual street food vendors to upscale restaurants, its cuisine reflects its rich cultural history and celebrates its love for all things flavorful. The city's unique blend of French, African, and American influences has created a culinary scene unlike any other.
The food in New Orleans is more than just sustenance; it's an experience. From the aroma of spices in the air to the vibrant colors of the dishes, every meal in the city is a feast for the senses. And it's not just the traditional dishes that make New Orleans a foodie paradise–the city has also embraced modern culinary trends, creating a fusion of flavors that caters to all tastes.
If you're planning a trip to New Orleans, bring your appetite. The city's combination of tradition and innovation has created a culinary world that both locals and visitors love. To help you out, we've compiled a list of must-try dishes to make your visit more special. The following dishes will make eating in New Orleans an unforgettable experience.
Food to Try in New Orleans
New Orleans is every food lover's heaven, with a food scene that reflects its unique blend of cultures and traditions. Here are some of the best dishes in New Orleans you have to try:
1. Po'Boy Sandwiches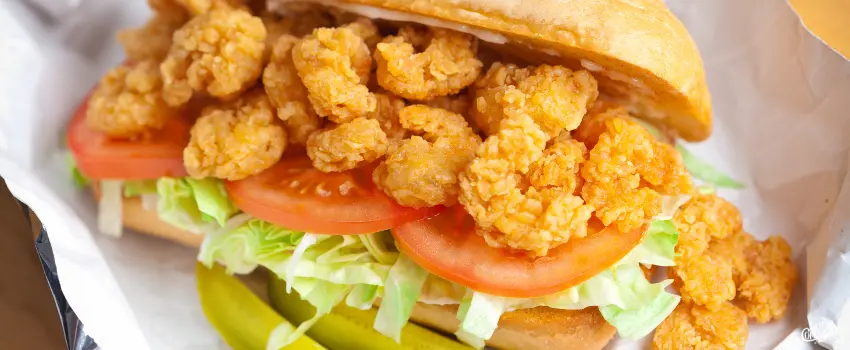 Po'Boys are a staple of New Orleans cuisine, with a history that dates back to the early 20th century. According to legend, two brothers invented the sandwich and they gave them for free out to Streetcar workers. The sandwiches were dubbed "poor boys" or "po'boys" and the name stuck. Today, po' boys are on menus throughout the city.
While many variations are available, the most popular po'boys have fried seafood, such as shrimp, oysters, or catfish. The seafood is breaded and deep-fried to a golden brown, giving it a crispy exterior and a tender, juicy interior. It is then topped with lettuce, tomatoes, pickles, and a special sauce that varies from restaurant to restaurant.
2. Oysters Rockefeller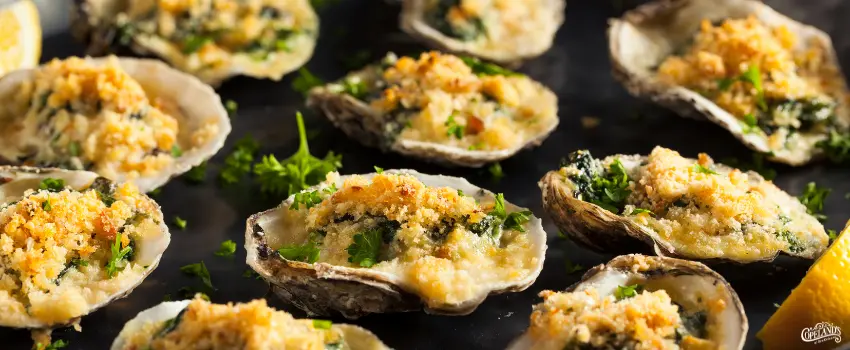 Oysters Rockefeller is a classic seafood dish invented in the late 1800s and quickly became a local favorite. It features oysters baked with spinach, breadcrumbs, and various herbs and spices, creating a rich and flavorful appetizer.
Presently, the dish is on numerous menus throughout the city, from fine dining establishments to casual seafood joints. The dish is often served as an appetizer or a starter and enjoyed with a chilled white wine. If you're a seafood lover, Oysters Rockefeller is a dish you can't miss when visiting New Orleans.
3. Shrimp and Grits
Shrimp and Grits is a simple yet flavorful dish that has become essential in New Orleans cuisine. Its origins trace back to the Lowcountry region of South Carolina, where it was a popular breakfast dish among the Gullah people. Over time, the dish found its way to New Orleans and has become a beloved staple of the city's cuisine.
The dish uses fresh Gulf shrimp sautéed with onions, garlic, and spices. Shrimp and grits are often garnished with crispy bacon or Andouille sausage, sometimes even topped with a poached egg.
4. Crawfish Boil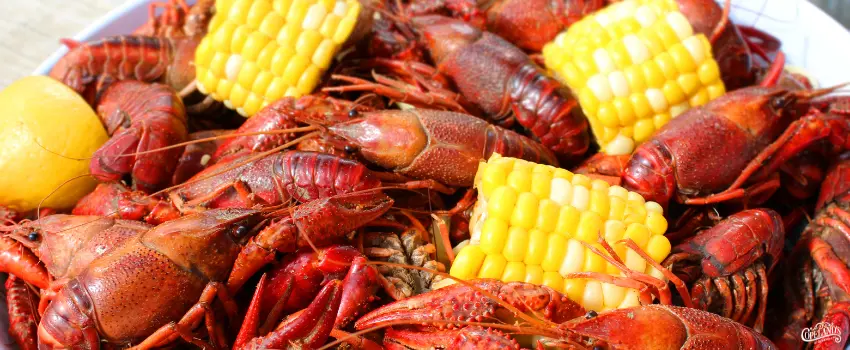 As a seafood delicacy, the Crawfish Boil is a quintessential part of the food in New Orleans everyone must try at least once. Especially popular in spring, it is a social event where people gather to cook and eat large quantities of boiled crawfish.
The crawfish are first seasoned with spices that give them a succulent flavor. After seasoning, they are boiled with potatoes, corn, and sausage to create a mouth-watering seafood feast. The best way to enjoy the dish is to roll up your sleeves, grab your preferred beverage, and dig in with your hands.
5. King Cake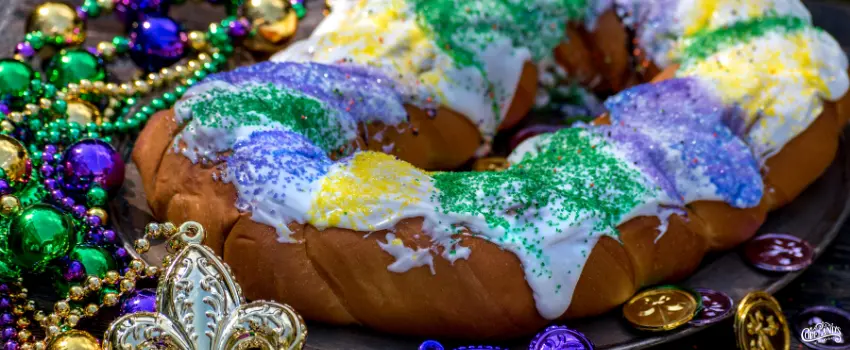 King Cake is a sweet and festive pastry that has become a famous symbol of Mardi Gras. To prepare, you shape the rich dough into a ring or oval and top with colorful sugar sprinkles. A small plastic baby is usually hidden inside the cake and adds an element of surprise and tradition to the dessert.
This pastry is a must-try dessert for anyone visiting New Orleans during the Carnival season. Many local bakeries and restaurants offer unique variations, with flavors ranging from classic cinnamon to unconventional fillings like cream cheese and chocolate.
6. Bananas Foster
Bananas Foster is an indulgent dessert that consists of bananas cooked in a caramel sauce. The rich sauce is made with butter, brown sugar, and cinnamon and then flambéed with rum. It's typically served over vanilla ice cream, creating a perfect blend of hot and cold, sweet and creamy.
It's not just the taste that makes Bananas Foster so special; it also has a unique preparation method. Since it involves setting the dessert on fire, it creates a showstopping moment for diners. Due to its rich flavors, this iconic dessert is a must-try for anyone looking to experience good food in New Orleans.
7. Bread Pudding
The ingredients of Bread Pudding include stale bread, eggs, milk, sugar, and spices. The dish has its roots in the frugality of early settlers who would use stale bread to create a filling and satisfying dessert. Bread pudding has become a signature dish of New Orleans, found on the menu of almost every restaurant in the city.
Although the dessert may seem simple, it has endless variations, each with its unique twist. Some chefs add bourbon or rum to the sauce for an extra kick, while others incorporate ingredients like chocolate or fruit. Regardless of the recipe, the dish remains a crowd-pleaser and a popular dessert choice.
The Bottom Line
Undoubtedly, New Orleans offers a unique and diverse culinary experience. From traditional dishes to iconic desserts like Bananas Foster, the city's food is rich in flavor and history. Whether you're a visitor or a local, exploring the food in New Orleans is essential to experience all the city has to offer.
Indulge in delectable food with bold flavors at Copeland's of New Orleans.
Copelands of New Orleans has been serving good food in New Orleans for more than two decades. Our New Orleans cuisine reflects the city's vibrant culinary scene, and we take pride in delivering the best food to our customers. Visit us today to savor the delicious flavors the city has to offer!